Ana Mari Ortega, City Year Miami Board Member and Co-Chair of Miami's Red Jacket Society (pictured above), is making cafecitos. The super sweet, industrial strength Cuban coffee is served at most restaurants in Miami (often in thimble-sized Styrofoam cups), but Ortega serves her batch in miniature glass mugs. She is warm and funny, and at 29, a delightful combination of confidence and enthusiasm. She talks and jokes as the coffee brews.
It's easy to imagine Ortega sitting across the table from a potential donor and how difficult it would be to resist her good sense and down-to-earth charm. As a member of City Year Miami's board – and now as the chair of Miami's Red Jacket Society – she's attended two-dozen pitch meetings with prospects over the last several months. At some point in those conversations with donors, Ortega often poses a hypothetical question: "Can you imagine how different Miami would be if there was a 95 percent graduation rate?" She then pauses for a beat: "It would be transformative." As a life-long Miami resident, Ortega is using her time and resources to transform Miami into a world-class city. She's eager to make it known as much for its art and culture and technology, as the splashy clubs and high-end boutiques of South Beach.
A designer by trade, Ortega has her own line of elegant handbags and jewelry, called simply Ana Mari Ortega. She often has beads and materials left over at the end of a season. After a visit to Madison Middle School with City Year, she scheduled a return trip to run a jewelry-making workshop for kids in the afterschool program. She says she was amazed by the students' creativity and heartened to see their budding entrepreneurial spirits: a handful told her they planned to make and sell bracelets to earn extra money. What stuck with her, though, was a lingering sadness from a feeling of disbelief she sensed in students. "They [the students] were like, why are you doing this? Why are you spending time with us," she says. "They seemed sort of shocked that someone would do something special for them."
Alberto Carvalho, the superintendent of Miami-Dade County Public Schools (MDCPS) and a City Year champion, likes to remind people that many of Miami's students have never been to the beach or swum in the ocean. He relies on this dichotomy between students' lived reality and the picture of Miami most people have in their minds to deliver a message about the challenges students face. Ortega's experience at Madison Middle had a similar effect, deepening her commitment to City Year Miami and to building community more broadly. "City Year has taken me to parts of town that I had no reason to ever go to," she says. "That shows me how big our community is, and how limited in scope our lives can be."
Ortega gives to City Year Miami and other organizations involved with community building and children, including Habitat for Humanity, through her family's foundation – the Ortega Family Foundation - which also gives generous scholarships to Miami-area high school students. The Foundation's most recent grant to City Year is a $300,000 matching gift, delivered over three years. This makes her conversations with potential Red Jacket Society members even more powerful: when she asks for a gift, she also guarantees she'll match it.
City Year's literacy work, and in Miami, its efforts to support English language learners, is one of the things she feels most passionate about (and is the programmatic focus of this month's digital story below). Native Spanish speakers can get by easily in Miami, without ever learning English, because all of life's necessities – the grocery store, restaurants, a doctor's visit – can be conducted in Spanish. "Not knowing the language [English] can be really limiting, in terms of jobs and opportunities," Ortega says.
In Ortega's family, education has always been a priority. Her parents were born in Cuba, but left the island as infants for Puerto Rico during the Cuban Revolution. Both families eventually immigrated to Miami. For years, Ortega's father has led Sazón Goya, a subsidiary of Goya that produces the Latin-flavored seasonings that are a staple in millions of kitchens (Latino and otherwise). But Ortega never felt any pressure to join the family business. If anything, she says, he encouraged her to be independent.
"Education was always important to my family, because life is unpredictable," she says. "One day everything could change – education is the one thing you can take with you." It's also one of the only things no one can ever take away. The here-today-gone-tomorrow mindset isn't unique to Ortega's family; it's a sensibility common in many immigrant communities, "especially those that began in political exile." And Ortega is quick to point out that it doesn't necessarily have a doomsday connotation. If education really is the one thing you can take with you, maybe it also means kids City Year serves can leave behind some of the hardship they've encountered in their lives.
"When I look at the kids corps members work with, I think what if they're able to graduate high school, go to the right school, and get a job?" she says. "I think about how different their lives would be if they don't graduate. And that to me is so exciting – that you can transform someone's life for the better."
Maria Farias, a City Year Miami AmeriCorps member, serves in Mr. Dido Balla's English as a Second Language (ESL) classroom at Booker T. Washington High School. A recent graduate of Florida Atlantic University (FAU), this year, she's learned to celebrate her students' little victories.
Last fall, Jason, from Honduras, struggled to stay in class for the full 90-minute period-the formality of Miami's school system was as foreign to him as his new city. Shy and withdrawn, he refused to even try speaking. Then, one day, he stood up in class and said "Thanks to you, I can speak in front of a whole class in English." When sisters Caty and Leidi (pronounced lady) arrived from Colombia three years ago, they didn't speak a word of English: even the question "What's your name?" seemed too hard. Now, Caty writes essays and Leidi talks about her plans to become a pediatrician.
Farias, as her students call her, is the fourth City Year AmeriCorps member to serve in Mr. Balla's classroom, where the most prominent decoration is a homemade banner, in bubble letters, that reads, "The more you read, the more you know." Goals for students are also written in neat block letters on poster board tacked up to the wall: "Move up 1 grade level in reading, become proficient writers and become charismatic speakers in standard English." It was an ideal placement for Farias, who is originally from Peru and struggled to learn English when she arrived in Miami as a 10 year old. "I hated English," she says, recalling her first year or two in Florida.
Mr. Balla was himself an AmeriCorps member, with Teach For America. He talks quickly, kindly and with a sense of urgency, as if there will never be enough time for all he has to do. (Originally from Cameroon, in West Africa, he, too, was an English language learner once upon a time.) At Booker T., about 20 percent of the student population is enrolled in the ESL program (it's close to a third, if one includes students who have recently exited the program). During any given week, close to 200 students cycle through his classroom. The majority of those students are newcomers, having arrived to the United States less than a year ago, and an overwhelming percent – about 90 – are Spanish speakers, the majority from Central America.
Balla believes his students too often perceive a direct relationship between their proficiency in English and their ability to perform, and "therefore think they aren't intelligent." His entire methodology seems directed at demolishing that mode of thinking. He knows how important it is for kids to feel like they have a place to belong and adults they can trust; kids stop by his room, just to say hello. In the structure of the school's ESL program, Balla is the father figure, his colleague, Ms. Leiva, is the mother, and Farias is the "emancipated older sister who is a good role model." Indeed, to many kids, the team is like family. Caty and Leidi, the sisters from Colombia, recently moved to a far-off neighborhood in a different school zone. Their mom works multiple jobs and couldn't get the girls back and forth, so Balla or Leiva drive Caty and Leidi home each day to ensure the girls can still attend Booker T.
Ms. Farias plays a critical role in his class, as someone students can not only learn from, but talk to. "It's one kid, but they have a whole life, right?" Balla says. In a class of 30 students, he doesn't always have enough time to give individual attention to every student who needs it, but with Farias as his partner, they're able to connect with many more students. "She'll push kids to find out what's really going on," whether it's understanding a lesson or learning why a student missed class.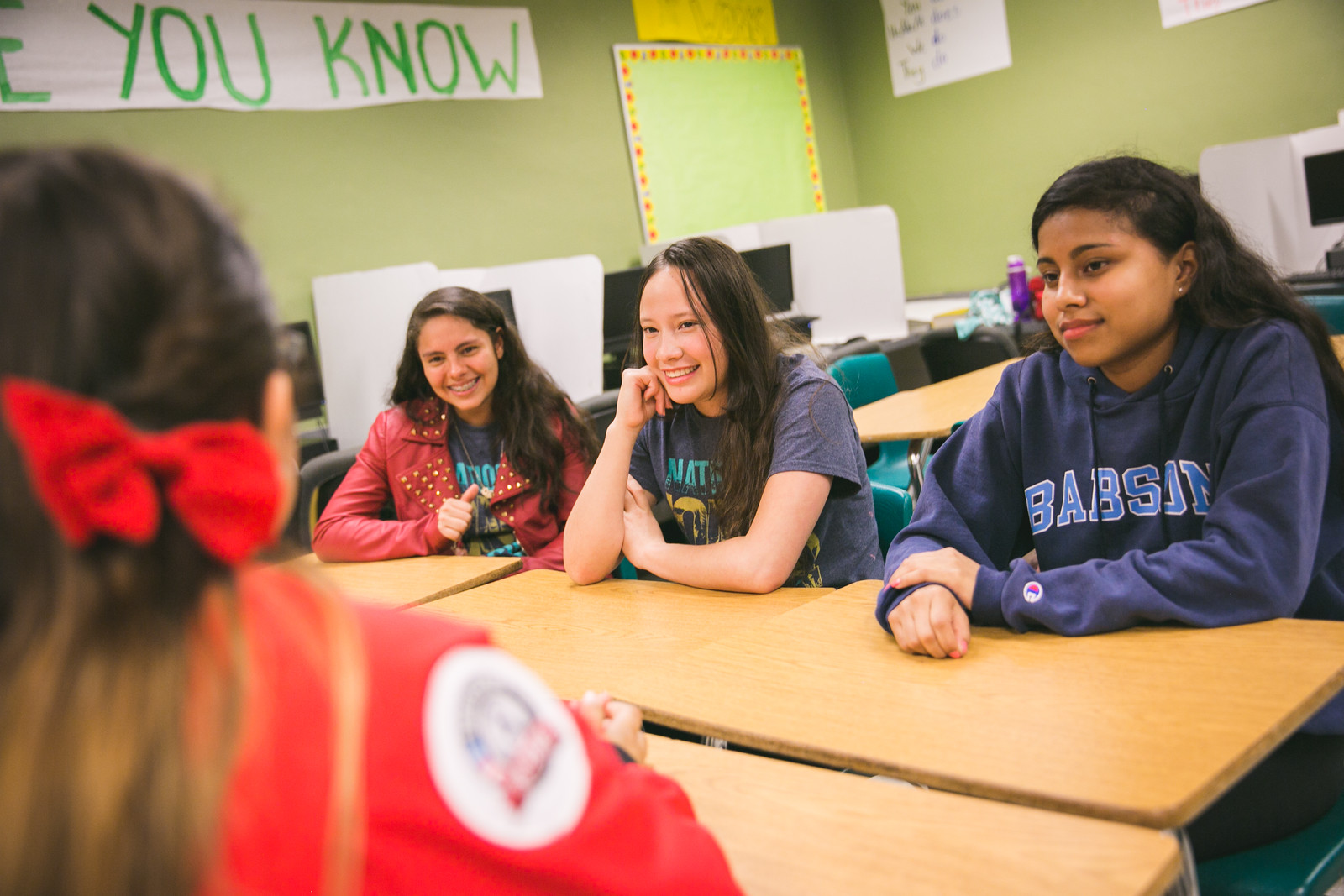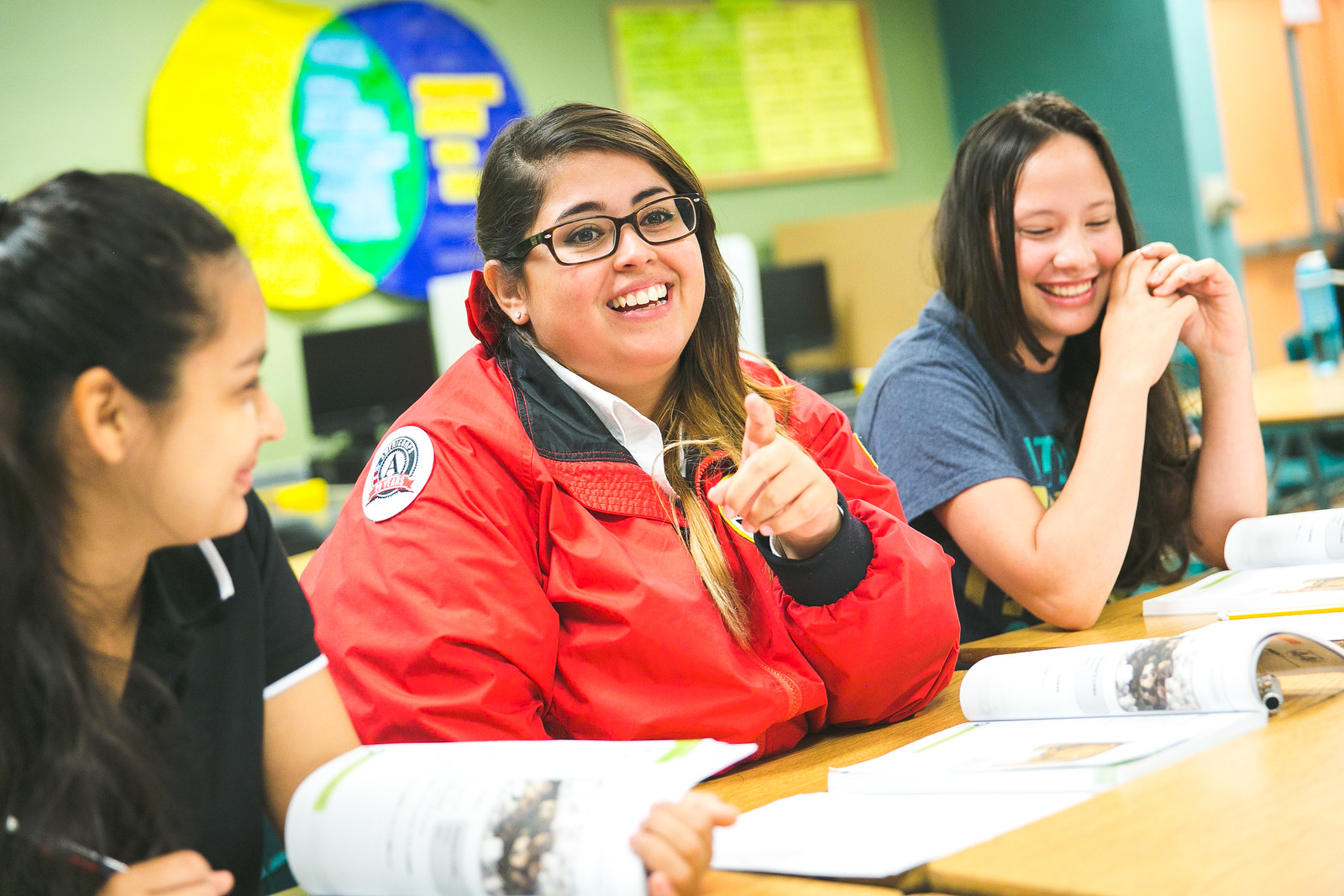 Farias spends hours with students each week, helping newcomers master the basics – phonics, colors, letters, numbers – and tutoring students who are more proficient, with vocabulary, reading comprehension and critical thinking. She also spends a lot of time just talking to kids and listening to their stories. Many of her students crossed the U.S. border on foot or had to sleep on top of a train to get into the country. So many of them are alone. "They come here and they want to make it – they want to get a job and learn the language and make friends and make their parents proud," she says. It's easy to forget that among all the adult issues these students are juggling, they're also just high school kids, who care about high school stuff: friends, grades, fashion, music, soccer.
Learning students' stories hasn't been easy, emotionally, but it makes Farias even more invested – and puts her in an even better position – to help kids learn, because she's earned their trust. "You can't really promise it's going to be ok, because you don't know. But you can tell them that you are there for them, because that's what you can promise. I'm going to be here for you and I'm going to try to help you as best that I can."
When educators talk about a student's literacy skills, they are referring to that student's ability to do four things: speak, listen, read and write. Thus far, City Year's literacy work has been focused on one of those elements: reading.
At some City Year sites, AmeriCorps members support students in math and English. But at City Year Miami, the school district has encouraged corps members to be designated "literacy" or "math" interventionists. (Everyone works with students on behavior and attendance.) At the beginning of the year, students are placed into levels – A, B, C and D – based on a standard assessment. A-level students, the least proficient readers, struggle with phonics or decoding, B-level students need to improve their fluency or ability to read at a reasonable pace with accuracy and expression, C and D-level students are working to expand their vocabulary and increase comprehension. Corps members learn how to support students in those four building blocks of reading – decoding, fluency, vocabulary and comprehension – and follow a specific instructional routine, designed to target a student's particular reading deficiency. The routine is similar, whether they are working with ELL students, as Farias does, or with the mainstream population.
Oftentimes, the toughest thing for corps members, is getting over the shock of realizing just how far behind their students are, explains Vivianne Borhorques, Regional Impact Director for City Year's three sites in Florida. Because so many kids start off behind, there's a huge risk that they fall even farther behind, as they progress from grade to grade, and the content gets harder. "It's disappointing for corps members because they realize they're not going to get students as far as they hoped to," Borhorques says. "But then, they realize where those students are, and that the best thing they can do is get them farther ahead."
Mixed up in the reality of assessments and proficiency levels, are the visceral emotions kids have when they realize they aren't where they should be. To cover the embarrassment and shame, many act out or skip school as an act of self-preservation – better to be known as tough or funny, than dumb.
It's Maria Stauble's job, as City Year Miami's literacy coach, to teach corps members how to be effective interventionists. She works in close partnership with MDCPS's academic leaders to develop a intervention framework for AmeriCorps members that supports the district's goals and aligns with new Florida State Standards. She spends three to four days a week in a school, where she observes and coaches AmeriCorps members and helps them build their skills, whether it's writing an effective lesson plan or working effectively with a teenage student who's struggling with basic fluency. Stauble and MDCPS specialists also deliver a series of trainings throughout the year – starting with the basics of teaching a student to read, and building up to more complex skills, such as how corps members can add rigor to a lesson.
Ensuring that corps members support students in a way that addresses their specific challenges is Stauble's primary objective. She says that successful corps members, like Farias, do three things well: they are purposefully planned, work with a sense of urgency and have high expectations. "We give corps members a routine to follow, but they can add to it and really take students to the next level," Stauble says. "When I see corps members asking questions that are causing students to think deeply about what they're reading, that's huge."
Booker T. Washington High School is located in the Miami neighborhood of Overtown. Probably best known for its football team, the "Washington Tornadoes" have won the Florida state high school football championship the last three-years in a row, and are regularly ranked among the top five football programs in the country. The school building itself is grand - yellow stucco, a terracotta roof, palm trees that shade open-air courtyards – but the location, across from a tangle of highway overpasses and a correctional facility, doesn't seem fitting of champions.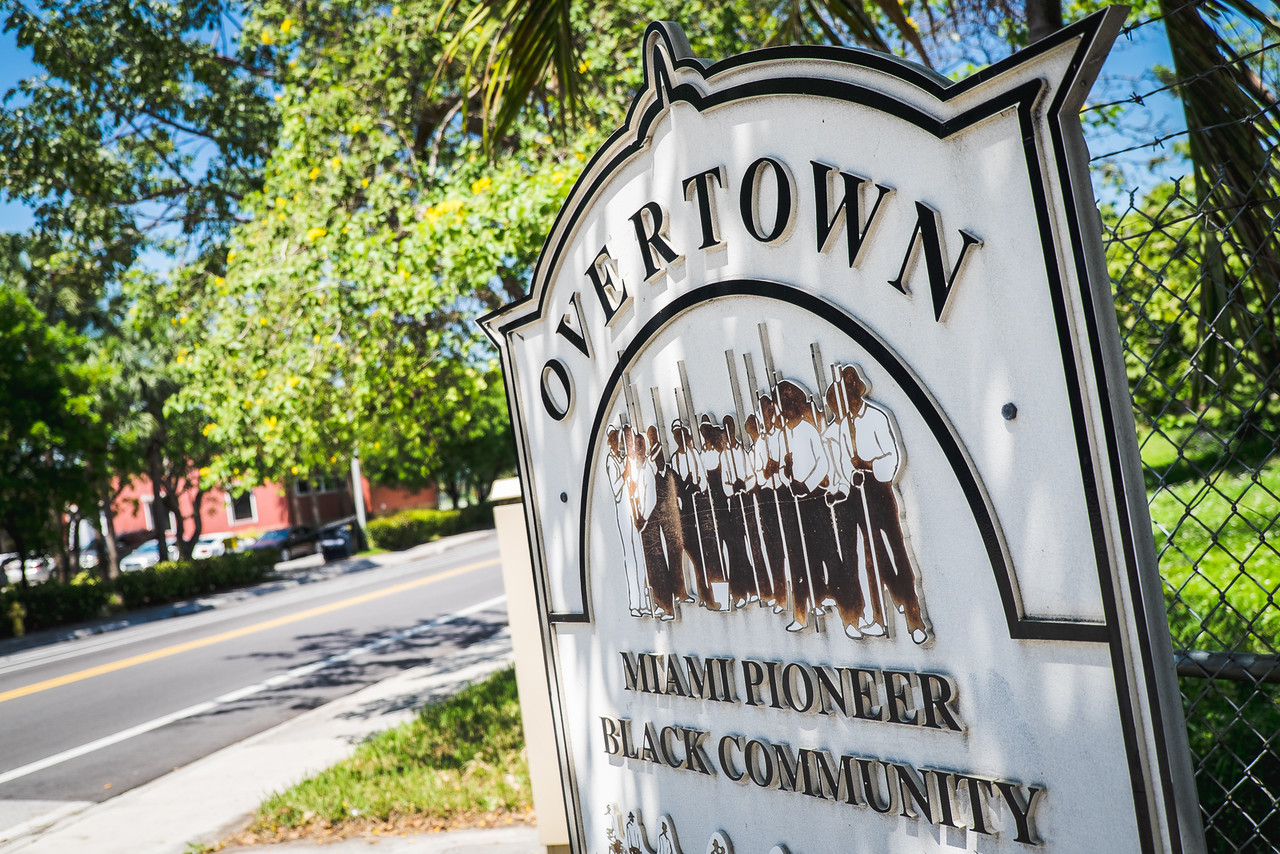 Overtown was a thriving African-American community of 50,000, first established in 1896, when segregation laws of the deep south designated the area "Colored Town." The Lyric Theatre on Northwest Second Avenue anchored what was known as the "Little Broadway" of the South and regularly welcomed artists and luninaries including Nat King Cole, Billie Holiday and Zora Neale Hurston, who until the Civil Rights Act of 1964, weren't allowed to stay at the prominent white-only venues, like the Fontainebleau, where they performed. But everything changed in the 1960s when highway construction cut the landscape in half, gut the population and gave the neighborhood its name: Overtown, for all the highways that go over the area. Thanks to recent investment, the Lyric Theatre has been restored and the neighborhood is speckled with community gardens and mural projects, but the population is still only 10,000. And a quick look up and down the blocks suggest economic hardship: in 2011, the median household income was about $21,000. Ninety-two percent of Booker T.'s students qualify for free and reduced lunch.
The school has made great progress in the last five years, thanks to investment by MDCPS, strong school leadership, dedicated teachers, and many partners, including Diplomas Now, a school turnaround collaborative of which City Year is a member, along with Johns Hopkins University and Communities In Schools. Five years ago, the ELA proficiency rate was in the single digits and less than half of students graduated: today, the ELA proficiency rate is 24 percent (on par with other high schools in the city) and 70.9 percent of students make it to graduation.
Back in Mr. Balla's classroom, Farias is running a small group lesson. On a piece of notebook paper, she's outlined in bubbly script, the seven steps of her lesson plan. She begins exactly as Stauble said she should, by asking students to read the title of the story ("The Tale of the Lion and the Fox") and make a prediction about what the story is about, a practice known as activating prior knowledge. Farias then follows the simple protocol of "I do, we do, you do," a practice that gradually releases responsibility for the work over to students, while encouraging them to listen, practice and participate. Caty, one of the sisters from Colombia, is in the group. She and another student share the eraser on a pencil, quietly passing it back and forth across the desks. Students read aloud together, then take turns, speaking up one at a time. Eventually, the group focuses in on two vocabulary words – vanished and suspected – and diligently follows Farias's instruction to write the definition of each word, use it in a sentence and draw a picture of its meaning. Caty draws herself, in stick figure form, next to a house. The caption beside it reads: "When I come home late my mom vanish. She always working." As the 20-minute lesson continues, it's possible to see the students gaining confidence, with a quickly raised hand or a sly smile, as they identify the story's theme and main idea.
Later, one student from Cuba, Melisa, says Ms. Farias is "a spectacular person." She beams when Farias tells her "spectacular" is a great vocabulary word. Melisa's best friend Maria, from Nicaragua, explains that "City Year is here to help us and make us feel confident and learn more, because it's not just come into class and sit down – it's come to ask questions and do your best." Leidi, Caty's sister (the girl who plans to be a pediatrician one day), worked with a City Year AmeriCorps Member last year, too. She reports telling students who don't know City Year, "Don't worry, you know this woman that has the jacket red? She is there to help you. She will teach you how to speak, how to write, how to read."
After the lesson, Farias collects her students' papers, offers some final words of encouragement - in English – and her students hug her goodbye. She'll come back and do it all again tomorrow.